What's Happening at TOES...

Click on the link above to learn all about our new Mind 2.0! It's where you can find out what books we have in the media center, and now you can check out e-books too!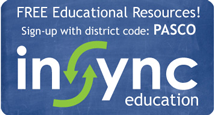 Pasco County Schools students can access Insync Education Online for homework help, test prep, and more! Click on the banner above to get started!

In partnership with the Florida Department of Education, Pasco County is hosting a Florida Standards workshop for parents and students on October 1, from 6 p.m. to 7:30 p.m. in the Sunlake High School cafeteria. This event offers an exciting opportunity for parents to learn more about how to support the learning of their students in a fun, interactive environment. Popcorn and sodas for this "Perfect Brainstorm in 3-D" will be provided by our Pasco Education Foundation.

The principal of Gulfside Elementary is trying to raise money so they can provide meals each day for their kids during the upcoming holiday breaks – they served over 500 meals last winter break and over 300 last spring break. With the Thanksgiving holiday being one week this year, more hungry kids will need to […]